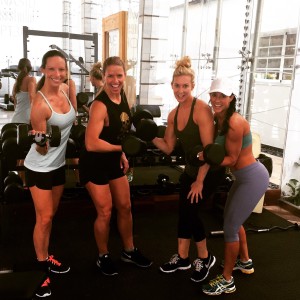 Day one in Punta Cana:
What beautiful skies and sandy beaches to wake up to. A far cry from Albuquerque. We got in late last night and met up with everyone at dinner. What a fun bunch of people and NICE. You never know in the fitness industry how other women will act towards you. It's sad but many aren't as welcoming if they feel threatened or are one of those who constantly compares herself to others. But here, it's a fun mix of great women. And men–Paul, my hubby and one other. Whew!
Elsa & Yasmine shot on Saturday and are sisters from Houston. They brought their styling assistant Kim along who is really nice. Love the Texas accents!
Also here is Monica, our tiny makeup artist, Tanya, Dawn, Liz, Sarah, who I met at Lori Harder's Bliss Project & Shannon who is from New York. Shannon just found out some great news.  I wish I could share but you will soon find out.
So after meeting everyone & chatting, we all moved over to the outside sports bar and hung out for a little while. It was great to talk with everyone and find out where they all were from & their background. I must say it was a little intimidating to hear all of them have shot with Paul before & numerous times. As for me, NEVER! What an honor to be asked on this invitation only trip but at the same time, I'm feeling the pressure now!
This morning we slept in -awesome since it's almost non-existent at home with a 5 month old and 3 1/2 year old. We hit the gym mid morning only to find over half of our crew already there. Gotta love it!
The gym is actually great  for a resort gym and the staff trainer was so very helpful and "spotted" us girls while lifting weights, even when we really didn't need one. Haha. Thank you…I guess?
While we were at the gym Sarah told us about Paul. He has a version of Montezuma's revenge so he had to cancel shooting for the day and everyone's scheduled shoot will be pushed back by a day.
LESSON 1: Being flexible is key.  When shooting, things can happen like bad weather, shoots running long, equipment malfunction and even well, getting sick.  If you want to succeed in the fitness industry or be invited back, be flexible.
Am I bummed? Of course.  I was really hoping to shoot and then enjoy Tuesday and Wednesday with my hubby on the beach with some very high caloric drinks, you know the one's with umbrellas in them.  Plus, trying to cut sodium and water two days back to back is tough.  Oh well.  It's probably best because I am holding water from traveling and something else… 
After breakfast and the gym, we hit the VIP beach for an hour or so before heading to meet the crew. The VIP beach is designated to those who upgrade their room while staying at the resort . Is it worth it? Not sure yet.  I will let you know.
The day was spent hanging out at the beach and pool.  It was actually great because everyone got to know each other better and goof off.  I must say, the girls Paul chose are DOWN TO EARTH.  All could be divas in their own right but they are true gems. I gathered that Paul doesn't put up or hang out with the "high maintenance" ones based on the comments from the girls.  Who has time or energy for that?  Right?
We ended the night back at the buffet.  Yes, buffet.  They had limited things we could eat but the guys sure had a field day day with it.  All I can say is Tuesday night, I am sooo devouring the pastries.  J/k.  In all seriousness, salt is my love. Like chips and salsa.  Oh and a margarita with lots of salt!
More to come from Punta Cana tomorrow.  Happy Easter!