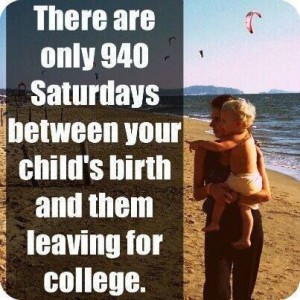 What an impactful quote that really sends home the message of spending time with your children.  I stumbled across this quote two years ago on Pinterest and it made a profound impact on me.  I never really thought much about my time with my children.  I mean, 18 years is a long time before they go off to college; but once it was put into perspective such as this quote above, the amount of weekends I get to spend with them takes on a whole new meaning.
Today was a wonderful Saturday and I reveled in every moment of it.  Addie went to her first "real" Farmers Market.  She was so excited and in fact, talked about it all week.
"Mom, we're going to the MARKET this weekend?",  she would ask. "Yes baby," I would reply.  It was so much fun to show her different types of vegetables and allow her to pick out the one's she wanted to purchase.  We sampled homemade bread, picked out homegrown flowers and at the end, she got her face painted.
Katie went along for the ride and did so good considering she is only 9 months old.  She enjoyed "people watching" from her stroller and at the end she watched Addie get her face painted and squealed with excitement.  It is so adorable the bond these two already have.  Katie worships her big sister and Addie is so good with her.  She loves her little sister and helps her in any way she can…sometimes too helpful. LOL.
In our crazy fast paced life, it is so important to stop and reevaluate our priorities.  It's so easy to get caught up in the hustle and bustle of soccer games, swim meets, football, baseball or our own personal goals such as working out or golf for yourself.  If you have children, make time for them, one on one, quality time where they can be children and explore.  You will create meaningful, wonderful memories for all of you that will last a lifetime.