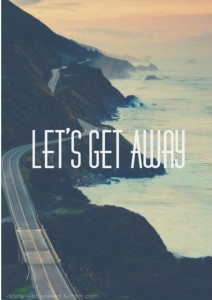 I often hear that once you have children, finding the time to do a weekend getaway with your spouse is difficult if not outright impossible & I'm learning first hand that it can be challenging. However, it's a must,  a must on many levels. When my husband and I got married 9 1/2 years ago, we vowed to do a weekend getaway every six months and only once have we not been able to do so.
It's so important to make time to reconnect. With a 4 year old and an almost 9 month old now, our lives at home are centered around them and work. And once we do have some time to ourselves we are both so tired that sleep is the most important thing on the agenda.
So here we are this July 4th weekend doing a husband & wife trip to Las Vegas & staying at my favorite hotel, the Encore. The kids are spending time with my parents and they are loving every minute of it. I love that my husband and I are keeping our promise to each other to do these weekend getaways.
I often hear from some of my friends who are now divorced, that through the years their once romantic relationship turned into a roommate sort of arrangement where they passed each other in the hallway going to and fro.  That can happen in ANY marriage and to keep the flame sparked, time away from children, responsibilities and any other "distraction" helps to remind us of why and who we fell in love with.
I love my two girls and leaving a 9 month old for 3 nights is tough but I am a better mom and wife doing so.  I want them to see the love my husband and I have for each other; not a stale, wilting relationship.
So what's on the agenda this weekend here in Vegas?  Drinks by the pool, a good book, good dinners at nice restaurants and a show or two.  Heck,  I may even sleep past 6am!